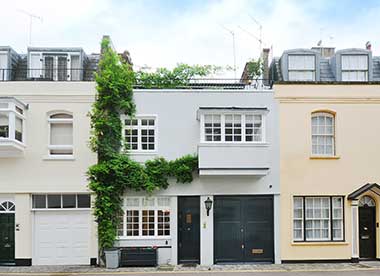 No other city can quite compare with London. No other part of London, however charming, can quite rival the streets and squares, the terraces and crescents that make up our 'patch'. The Royal Borough of Kensington & Chelsea, Knightsbridge, Belgravia and Mayfair are among the most prestigious and sought-after addresses on the planet. It's a truly unique quartier of world-class shopping, famous restaurants, vibrant nightlife, major art galleries and museums, wonderful green spaces and even a palace or two.
You can go riding in the park, enjoy a drink by the river, row a boat on the lake or just sit with an espresso at a pavement cafe and watch the world go by. And the world really will, because this part of town attracts a population that's truly international, excitingly diverse and which expects the very highest quality of life. This creates a neighbourhood that's both elegant and fun, calmly dignified and wildly colourful.
It's also blessed with a stunning, and equally eclectic, property portfolio, the creations of the greatest architects of the last two hundred years. From magnificent 19th century town houses to cutting-edge contemporary flats, from pretty cottages in hidden mews to grand Edwardian mansion apartments.
So whether your dream home has a view of a leafy square or out over sparkling water, whether it's in a peaceful backwater or a buzzy street, it's waiting for you here. Unlike some of the big chain agencies, every one of us at SMR knows the area like the proverbial back of our hand. We're 'the locals'. Nobody is better equipped to welcome you to, and guide you around, this very special place.